Basic Rhododendron Care:
Rhododendrons and azaleas are a must-have for many gardens in the Pacific Northwest. Here are a few basic guidelines to care for these plants.
All azaleas are Rhododendrons, but not all Rhododendrons are azaleas. The term Rhododendron with a capital R refers to the genus to which rhododendrons and azaleas plants belong. Evergreen azaleas and deciduous azaleas account for two of the eight sub-categories in the Rhododendron genus.
Buy rhododendrons anytime you can find them, which is usually in the spring. Availability is never guaranteed, so it is wise to seize the opportunity to purchase the plant you are looking for.
Rhododendrons purchased in a pot can be planted on any day that the ground isn't frozen or sopping wet. 
Do not let a rhododendron dry out in the first three years after planting. Water regularly and allow water to reach one foot into the soil. As a baseline, allow a soaker hose or drip line (not a sprinkler!) to run for two hours, then turn it off and wait for one hour. After waiting an hour, dig down one foot near the plant (avoid digging into the root ball) and measure to see how deep the water penetrated. If the soil is dry six inches down, continue watering and checking until the entire foot is moist.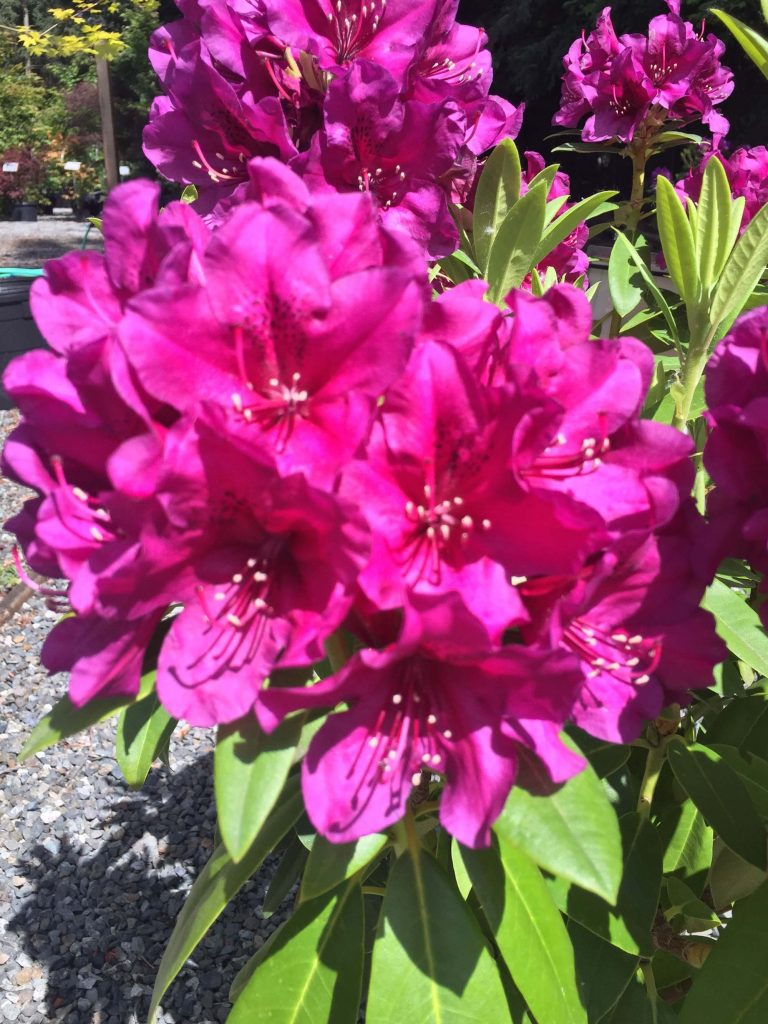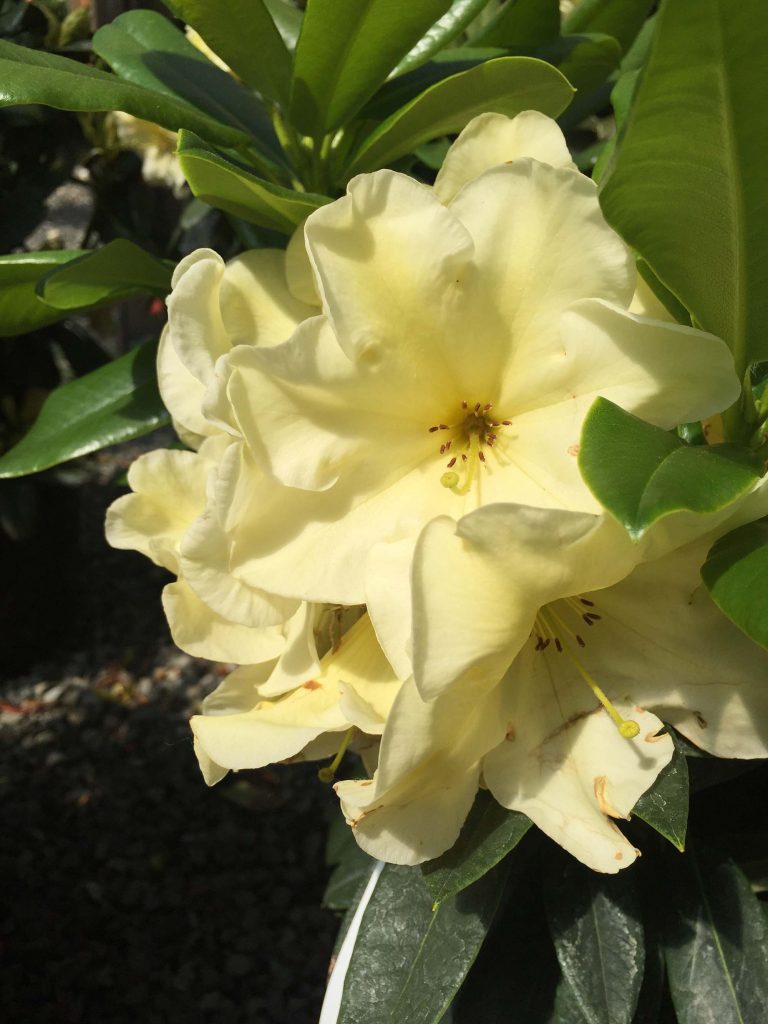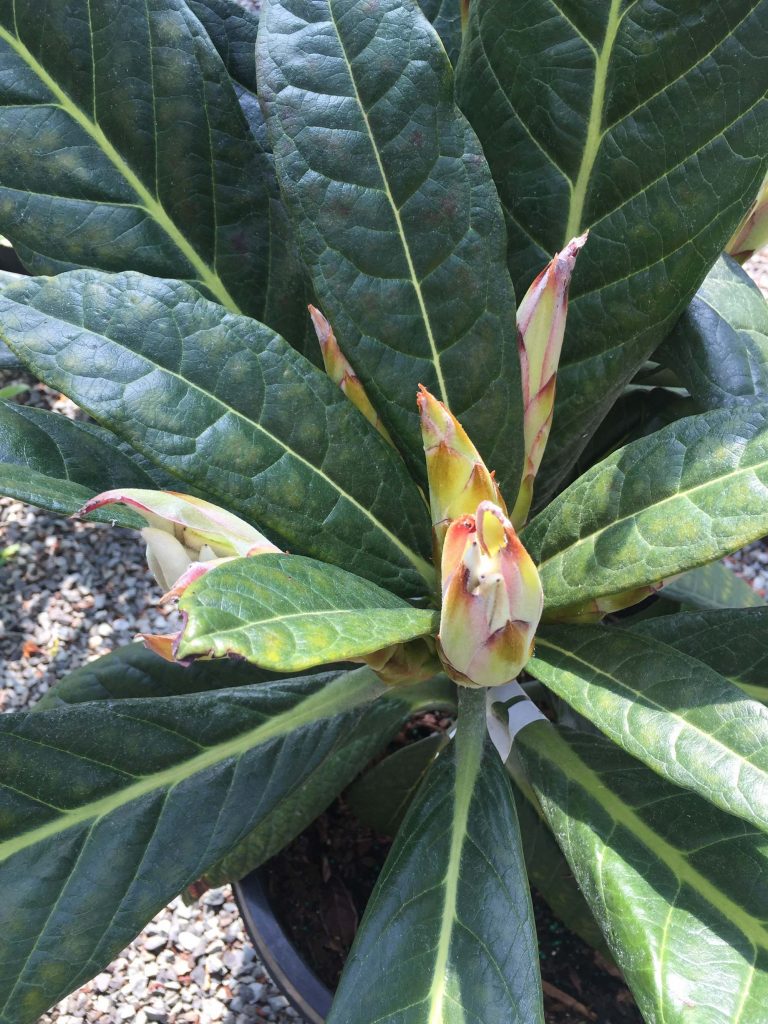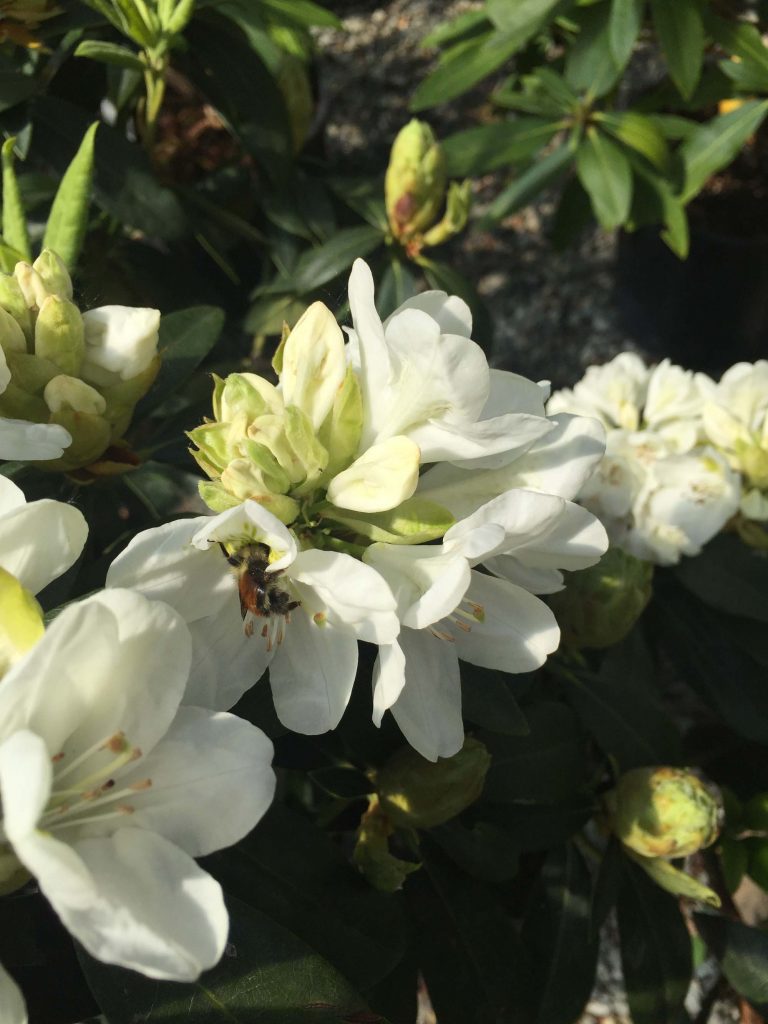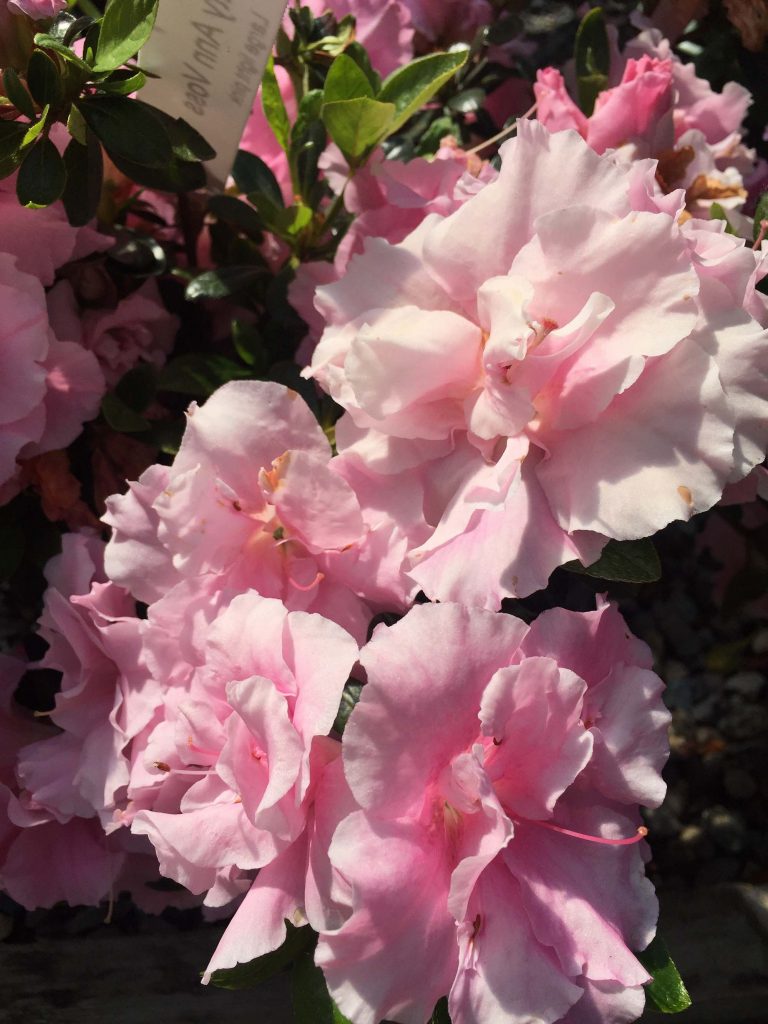 Rhododendron 'Christmas Cheer'
Blooming unrivaled in February and early March, Christmas Cheer showcases white funnel-shaped flowers tinted with pink. It has a mounding, dense growth habit, growing up to six feet tall and wide. Prefers full sun to light shade.
Azalea 'Karen'
This Gable Hybrid is well-known as a symbol of spring due to its showy purple blooms in April and May. It's often used in Asian/Zen and Cottage gardens and thrives in acidic soils. It was introduced to the United States in the 1890's by Arnold Arboretum.
Rhododendron 'Grace Seabrook'
This Seabrook hybrid produces vivid red funnel-shaped flowers about three inches across.  Early-mid spring blooms come in tight trusses of up to 12 flowers. Grace Seabrook is a hybrid of The Honourable Jean Marie de Montague and strigillosum.
Rhododendron 'Curlew'
This compact rhododendron reaches just two feet in 10 years, making it a must-have for those gardening in tight-quarters. Early-mid season blooms are creamy yellow with some crimson spotting in trusses of up to three flowers. Works well for low borders.
Azalea 'Silver Sword'
Red, funnel-shaped flowers emerge from variegated foliage on this compact evergreen azalea. With its low, mounding habit, Silver Sword is great for borders, containers and Japanese gardens. Typically blooms in late March and April.
Rhododendron ponticum 'Variegatum'
True to its name, Variegatum has long and narrow green leaves with creamy yellow edges. Lavender purple flowers emerge in trusses in late May or early June. Growing up to five feet per decade, this is a tough, reliable rhododendron that brightens up dark, shady garden corners. The one pictured is the only one of its kind at our nursery.
Azalea 'Girard's Purple'
Light green spring foliage emerges from dark green leaves (pictured left). Rich purple blooms of trumpet-shaped flowers follow in April. Girard's Purple has an upright spreading growth habit and reaches about three feet tall and wide in maturity. It is often used as an accent and for mass planting.
Rhododendron rubiginosum
Native to China and Burma, this species rhododendron has narrow elliptic foliage and bell-shaped pink to purple flowers in clusters of four to eight. Rubiginosum refers to some cultivars having rusty-reddish scales. Bloom in March and early April.
Rhody Rage
On March 17, Wells Medina Nursery unveiled a collection of unique species and hybrid rhododendrons of notable sizes, shapes and fragrances. We had great fun showcasing and selling these plants, but the fun isn't over yet! There are still dozens of these wonderful cultivars waiting to find a new home, including the sinograndes pictured above. Click here for our blog post about Bellevue's Jim Barlup, who hybridized several of the Rhody Rage plants.