A Tale of Two Twiggies
With the holidays behind us, we turn our focus toward spring and filling the nursery with great plants and trees. During this search, we come across exciting new cultivars, must-have garden staples and, occasionally, we are reunited with old friends like Viburnum plicatum 'Molly Schroeder' and 'Mary Milton.' After several years without, these wonderful deciduous shrubs (twiggies) are back in stock and ready to make a statement in your home landscape.
Viburnum plicatum f. tomentosum 'Molly Schroeder'
Also referred to as Doublefile Viburnum.
Flower:
Infloresence consists of pale-pink, sterile outer lacecap flowers surrounding inner green buds that open pink and turn white.
Flowers appear in May and persist throughout the summer.
Often repeats blooms.
Not especially fragrant.
Habit:
8 feet tall and 5 feet wide in maturity with horizontally tiered branching.
Prune to thin or remove damaged branches immediately after flowering ceases.
Prune overgrown shrubs in early spring. Sawing off up to 1/3 of the oldest, thickest branches to the ground will promote fresh, new growth.
Foliage:
Dark green foliage with deeply pressed veins. Leaves flush red-purple in autumn before falling.
Small red berries ripen in early summer and attract birds.
Viburnum plicatum f. plicatum 'Mary Milton'
Also referred to as Japanese Snowbell and 'Mary Melton.'
Flower:
Soft pink snowball flowers emerge from green-pink buds 2-3 weeks later than 'Molly' and persist longer.
Sterile inflorescence blooms may emerge pink and age to pure white or open white and fade to soft pink.
In peak season, blooms cover entire shrub and hold for several weeks.
Not especially fragrant.
Habit:
Rounded or slightly upright habit reaching 8-10 feet high and 6 feet wide.
Prune to thin or rejuvenate as you would 'Molly Schroeder.'
Prune to shape regularly, especially early in its life to keep rounded.
Foliage:
New foliage emerges reddish-bronze and turns dark green.
Leaves imprinted with veins, flush purple-red in fall.
Does not produce fruit.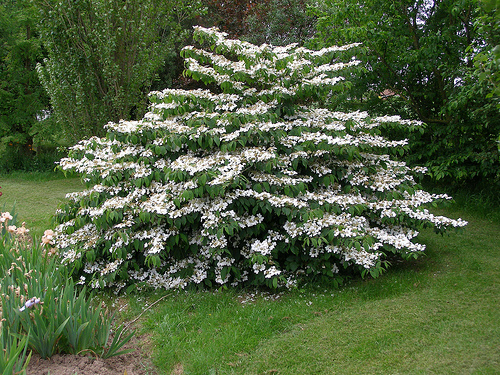 'Molly Schroeder' exhibits horizontally tiered branches.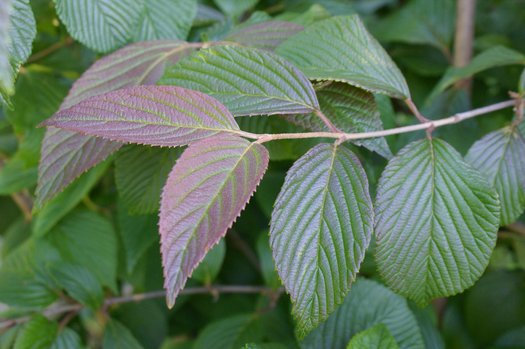 'Mary Milton' displays reddish-bronze new growth.
Both shrubs...
Have green leaves, 2-5 inches long and 1 to 2 1/2 inches wide, that grow in opposite pairs.  The foliage has dentate-serrate margins and deeply pressed veins.
Prefer full sun or part shade and well-drained soil. 'Molly Schroeder' is less tolerant of wet soil but more tolerant of shade.
Grow moderately to 8-10 feet in height.
Display purple-red fall color before dropping their foliage.

Loading ...