As the most popular plant in America, tomatoes clearly hold a special place in the gardening world. At Wells Medina Nursery, we work year-round to find unique and wonderful tomato varieties that will thrive in our area. Whether it's your first or 50th season gardening, we have the plants and resources to help you grow a beautiful, tasty crop of tomatoes.
This year, join Wells Medina Nursery as we celebrate our 50th anniversary by providing you with over 50 varieties of tomatoes from classic heirlooms to new favorites from which to choose!
Tomato Growing Guidelines:
Plant tomatoes when overnight temperatures are consistently above 50 degrees. Most years, this is occurs in mid-late May.
Find a spot where your tomato plants will have six or more hours of full sun each day.
Before planting, prepare your garden area using compost. We suggest EB Stone Planting Compost.
If you are using containers, mix 2/3 potting soil with 1/3 planting compost for the ideal blend.
Use stakes and cages, especially for indeterminate types. Indeterminate plants will continue to grow throughout the season.
Tomato plants benefit from being planted deeply. Simply cut off the lowest leaves and bury part of the stem (no more than six inches of the plant below the ground!)
If you select plants with varying "days to maturity," you will have a full season of tomatoes.
Water plants so the roots are soaked every three to four days during the first few weeks. As plants grow, water deeply and more infrequently.
In mid-August, start removing blossoms and small fruit to help existing tomatoes ripen.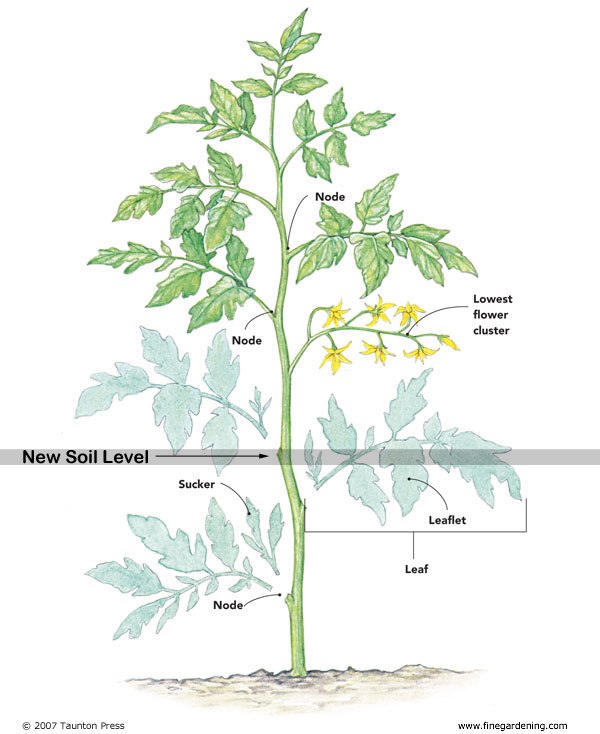 Here are the tomato varieties our staff members are excited about in 2021:
Black Cherry is Lisa's baby that produces, and produces, scrumptious, deep purple, crack-resistant fruit.
Sungold  is Wendy's sure producer of sweet, golden poppers.

Petit Moineau  or 'Little Sparrow' is Kim's new favorite

currant tomato

with its delicious sweet taste and prolific production.
Stupice - no matter how you say it - is an amazing producer of intense-flavored saladette tomatoes.
NEW RELEASE: A first time offering in the US, Riesling is a cherry tomato with high brix bringing great taste plus disease resistance.

Loading ...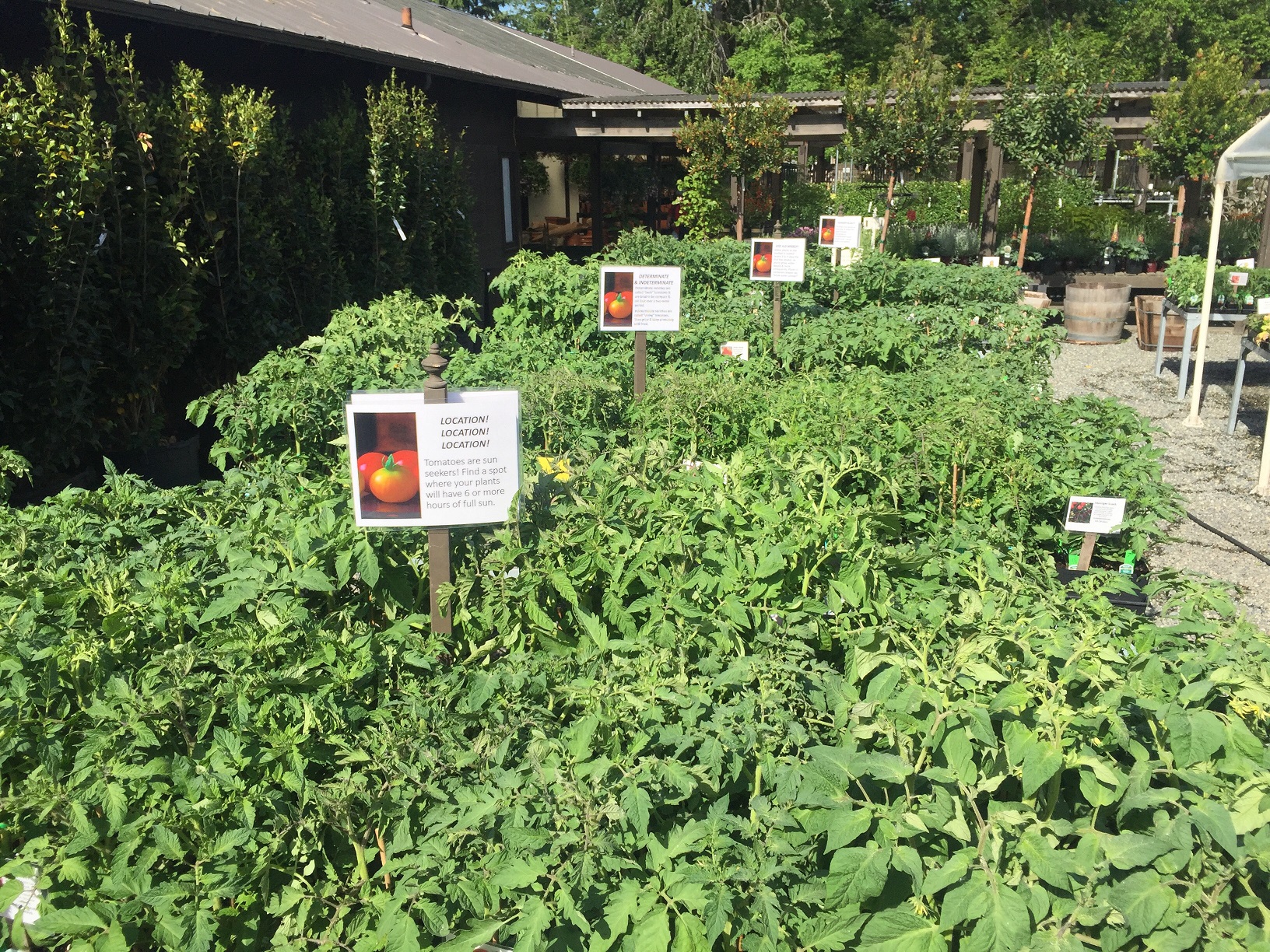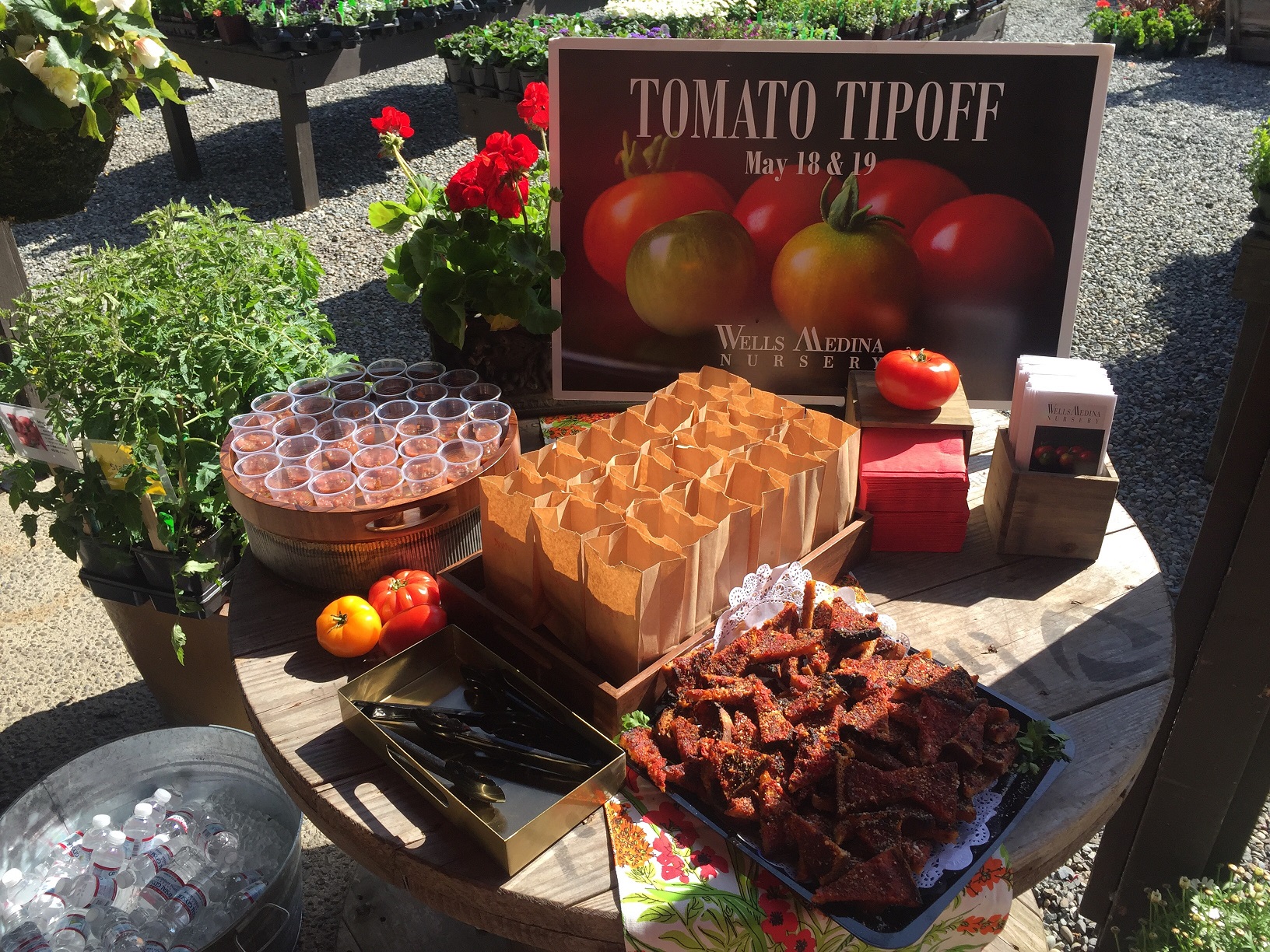 Garden Fresh Tomato Recipes
Few things are less satisfying than making a tasty meal or snack from ingredients grown in your own garden. Below are a few tried and true recipes recommended by our staff. We've put an * next to ingredients you can grow from plants we plan to carry.
Homemade Salsa
Great with corn chips or as the perfect compliment to omelets or tacos.
You will need:
5 pounds of tomatoes*
1 large can of whole tomatoes
1 pound of tomatillos*
1 white onion*
2-3 cloves of garlic*
1-2 limes
1 tablespoon of salt (vary to suite your taste)
2 teaspoons of vinegar
2-3 jalapenos*
1 bunch of cilantro* (washed and diced)
Directions: Cut a small X on the bottom of each tomato and boil tomatoes until skin is loose. Remove skins by peeling from the X. Blend ingredients separately and then stir together. Chill in refrigerator and add cilantro just before serving.
Farm-Fresh Soup
A comfort food made from garden ingredients.
You will need:
4 cups of chopped fresh tomatoes*
1 sliced white onion*
4 whole cloves
2 tablespoons of butter
2 tablespoons of all-purpose flour
1 teaspoon of salt
2 teaspoons of white sugar, or to taste
Directions: In a stockpot, over medium heat, combine the tomatoes, onion, cloves and chicken broth. Bring to a boil, and gently boil for about 20 minutes to blend all of the flavors. Remove from heat and run the mixture through a strainer into a large bowl or pan. Discard any leftover items.
In the now empty stockpot, melt the butter over medium heat. Stir in the flour to make a roux, cooking until the roux is a medium brown. Gradually whisk in a bit of the tomato mixture, so that no lumps for, then stir in the rest. Season with sugar and salt to adjust to taste.
Salmon & Melting Cherry Tomatoes
You will need:
1 Cup chopped sweet onion
2 teaspoons of minced garlic (2 cloves)
2 Cups cherry tomatoes*, halved
1 1/2 Tablespoons balsamic vinegar
1 1/2 Tablespoons diced fresh basil leaves
1 (2 lb.) salmon fillet, cut into 4 pieces
Directions: Preheat oven to 425°. Heat 3 T. olive oil in a medium pan. Add onion & sauté for 5 minutes, stirring occasionally. Add garlic & sauté for a minute. Stir in tomatoes, 1 t. salt, ½ t. pepper & cook over medium for 10 minutes stirring as sauce thickens. Turn off heat & stir in vinegar & basil.
Meanwhile, place a large pan over high heat for 5 minutes. Brush the salmon with olive oil & sprinkle with salt & pepper. Place skin side up in pan. Cook the fish for 3 to 4 minutes until browned. Turn the salmon skin side down with a spatula & transfer to pan then into the oven for 8 minutes. Serve with warmed tomatoes.
Easy Caprese
Simple enough for a snack; elegant enough for an appetizer.
You will need:
4 slicing tomatoes*- different colors if possible - sliced at 1/4 inch
16 ounces of fresh mozzarella cheese and thinly sliced fresh basil leaves - one for each tomato slice
1/4 cup of quality olive oil
1/4 cup of sweet balsamic vinegar reduction (see below, or purchase)
4 ounces of fresh pesto* (make your own or purchase)
Coarse salt and fresh ground pepper, to taste
Directions: On a platter or individual plates, alternate layers of tomato, cheese and basil leaves. (A good individual serving size is 5 tomato slices with 4 layers of cheese and basil.) Drizzle with olive oil and balsamic reduction (put 1 cup balsamic vinegar and 1/4 cup honey in a small saucepan and reduce over high heat until think and syrupy. Allow to cool.) Dot with pesto and sprinkle with salt and pepper to taste.