1. Carve them
Like trick-or-treating, carving Jack-O-Lanterns is a Halloween tradition that people tend to outgrow. Well stop. Pick the perfect pumpkin, clean out the insides with a spoon, roast the seeds and get carving!
2. String them together
A power drill, some rope, and a pile of mini pumpkins/gourds are all you need for a DIY pumpkin string.
3. Decorate them
If knives and power tools aren't an option, decorate your pumpkin with pre-made kits. No mess, no danger, no problem!
4. Pile them
Pumpkins come in a variety of shapes, colors and sizes. Why even decorate them? Throw them in a pile and let THEM do the work.
6. Grow and shape your own
Growing your own pumpkins is incredibly rewarding, especially if you personalize them by scarring or shaping them. Ask us how to grow and personalize your own pumpkins.
7. Wear them
This one isn't for the claustrophobic, but a hallowed out pumpkin makes for a... unique... Halloween costume. (Disclaimer: Pumpkin helmets are much heavier than they look and can be tricky to get off).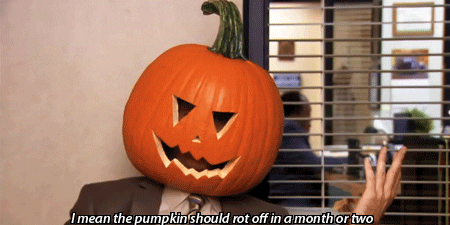 9. Watch hippos eat them at Woodland Park Zoo.
Share your success, failures and ideas with us on social media!
Use the hashtag #WellsintheWild on Instagram, Facebook or Twitter to show us how you used pumpkins to make the most out of autumn.